The Conscience Movement made a press statement with the participation of activists from 45 countries at the Halic Congress Center in order to release the women and children in the Syrian prisons immediately. "Release Syrian women right now!" call was made at the hearing which was supported by people from 110 different countries.
More than 13,500 women have been imprisoned in Syria so far, and more than 7,000 women are still being tortured, raped and subjected to various inhumane tortures. The Syrian regime has used rape as a weapon and continues to use it.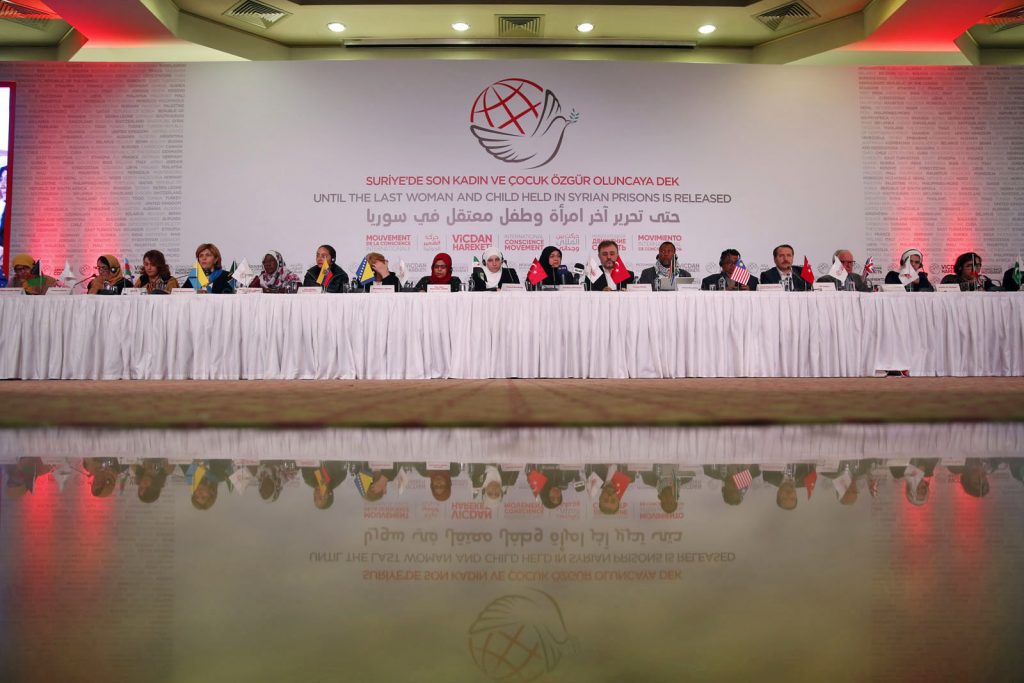 Last year, in order to draw attention to the tragedy experienced by women in the Syrian war Conscience Convoy has arrived in Hatay from Istanbul, and this year it operates under the name of "Conscience Movement" in order to remove the barriers to freedom. Politicians, journalists, academics and human rights defenders from different parts of the world gave their support to the Conscience Movement.
The Conscience Movement, which carries out its activities with the slogan "Because We are Human", will continue its activities until the last woman and child in Syria is free. The conscience movement believes that people should live in dignity and humanely without being persecuted and tortured regardless of their religion, language, race or color. The movement aims to bring awareness to the suffering of women that has grown continuously since the beginning of the Syrian war, due to rape, murder, detention, and displacement.
First began in Istanbul
The Conscience Movement, which will perform a series of programs until March 8, 2019, first began its works with an international press release at the Istanbul Haliç Congress Center. A call for the immediate release of Syrian women and children was made with the participation of 45 different countries
Many outstanding names like Azerbaijani artist Azerin, Mandelaens grandson and member of parliament Chief Mandela, Mothers of Srebrenica, the first Muslim member of the British Parliament Hon Baroness Pola Manzila Uddin, Ecuadorian member of parliament Ana Belen Marin Aguirre and the Ukrainian member of parliament Olga Bogomolets participated in the press release.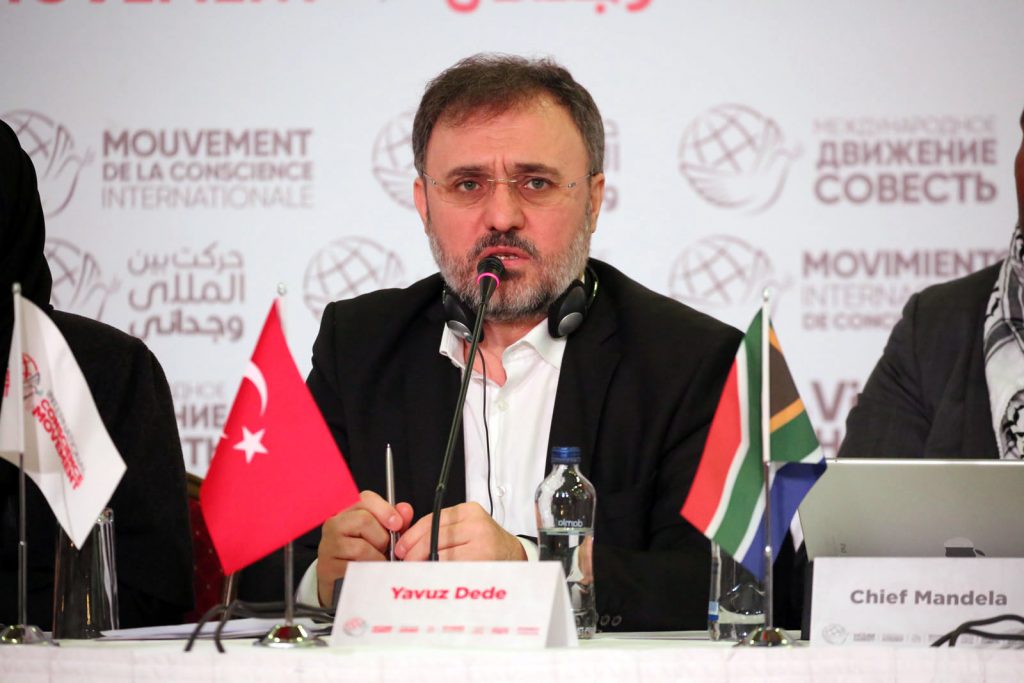 "It is not possible to explain what happened in Syria"
The first speech was made by General Coordinator of Conscience Movement, Yavuz Dede. Yavuz Dede said that the movement was supported by Turkey and over 2 thousand NGOs all over the world stating the Conscience Movement is established with the support from 110 countries. "It is not possible to explain what happened in Syria" Dede continued, "the actions will continue until 8 March, International Women's Day" he said. "During this time, we will perform various activities through social media. Our participants from 45 countries will organize different events in their own countries" Dede added.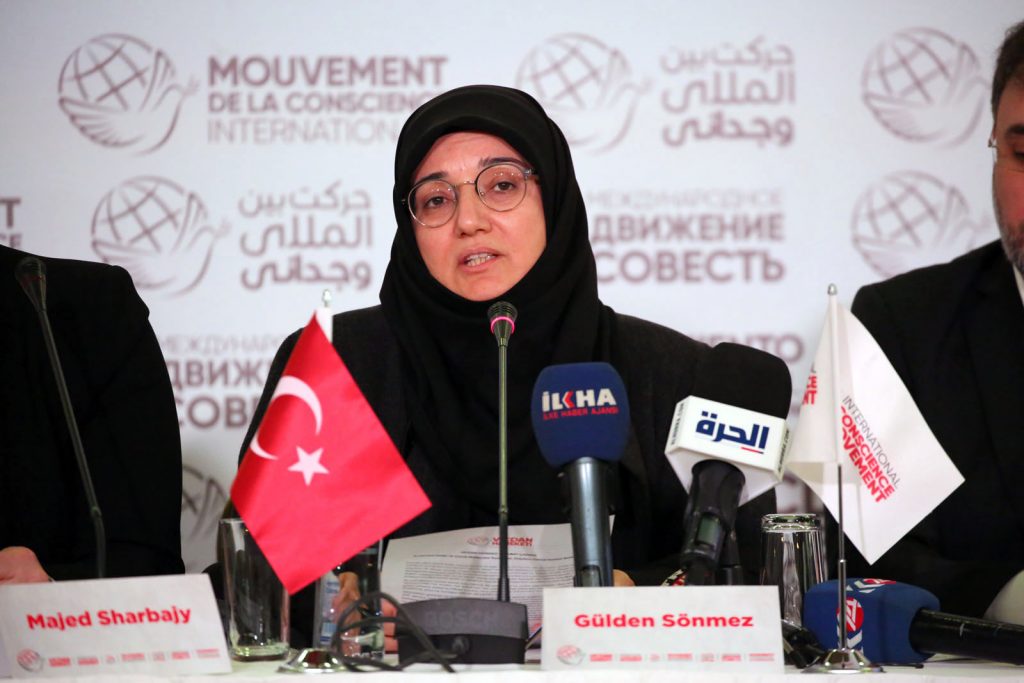 February 20th Call
Attorney Gulden Sonmez, spokesperson for the Movement for Conscience, read the Turkish press release. Gulden Sonmez called saying "release women and children prisoners in Syria unconditionally!" in the statement. Sonmez, emphasizing the painful tragedy experienced by women and children who are imprisoned in Syria, said:
"We invite all people to take effective measures to protect women and children in wars. We invite all the international mechanisms particularly the United Nations, including the Organization of Islamic Cooperation, the strength and initiative of leaders of all states, especially Turkey, Russia and Iran are invited to make efforts in this regard. We invite all consciences around the world to raise their voice from today onwards until the last Syrian woman and child is free."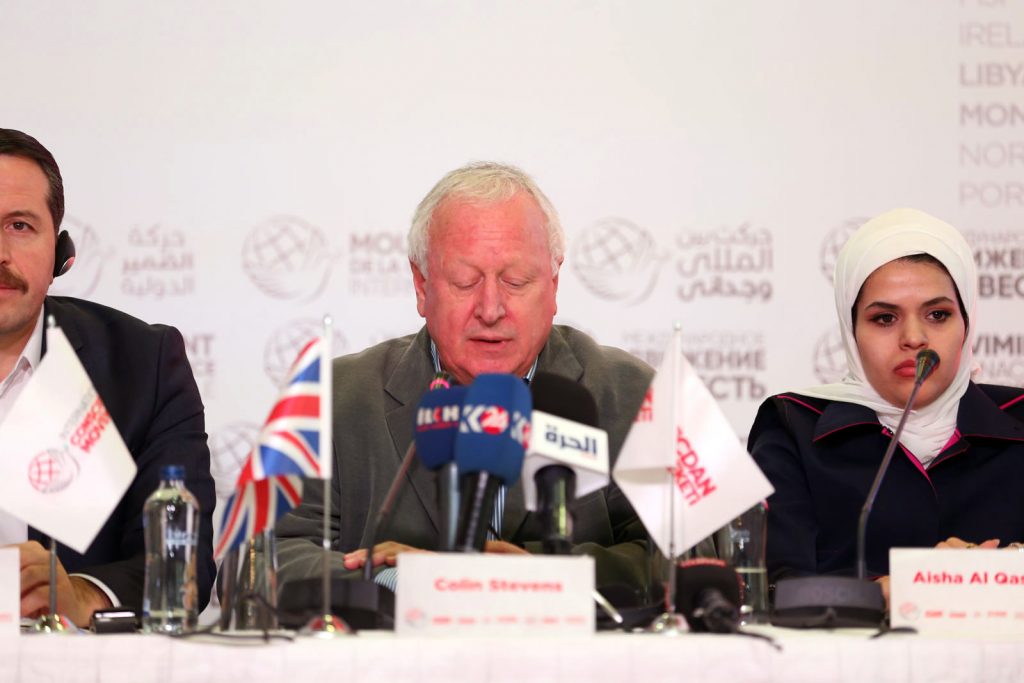 The release is read in 3 languages
Colin Stevens, a journalist participated in the Conscience Movement as a Belgian citizen of British origin, read English-language press release while the Arabic release was read by Aisha Al Qassar, a lawyer and human rights defender who was included in the movement from Kuwait.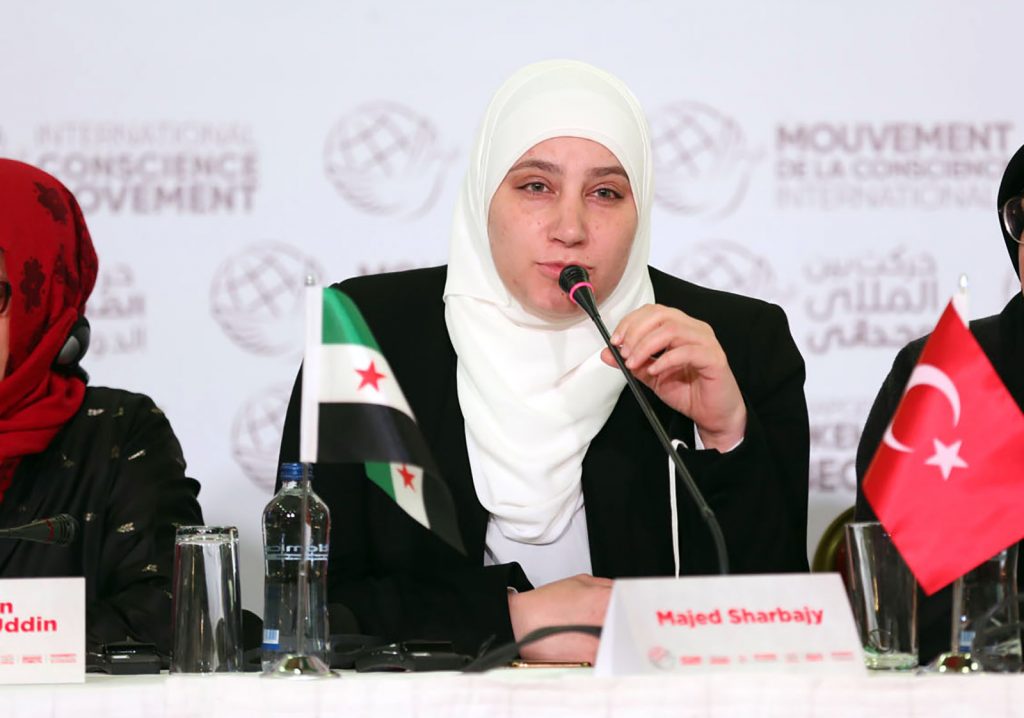 "They threatened me with rape"
Syrian woman Majed Sharbajy, who was tortured in Syrian prisons for seven months and lost her husband in a dungeon, said she was threatened with rape in prison. "They took off my hijab in front of my husband many times" said Sharbajy, she explained what she had been through as follows:
"It is not possible to express what we have been through there. They didn't let us take a bath for 3 months. Now, infestations with lice started to occur. People were dying next to us because of torture. Then they were burying those deceased people in mass graves. The reason why they did this was to hide the persecution from the world. There were many pregnant women in prison with us. None of them were given medication, and all were trying to make their voice heard by screaming to repeat this demand. Not only women but also men were tortured. A 4-year-old boy was constantly crying and they were never fulfilling his demands. It is impossible to summarize what we have been through there. But I want to say that the regime is doing all kinds of torture and I want to announce the voices of captive women to the world. I applied to the United Nations. Maybe I can't change things, but I think I've done my part in history."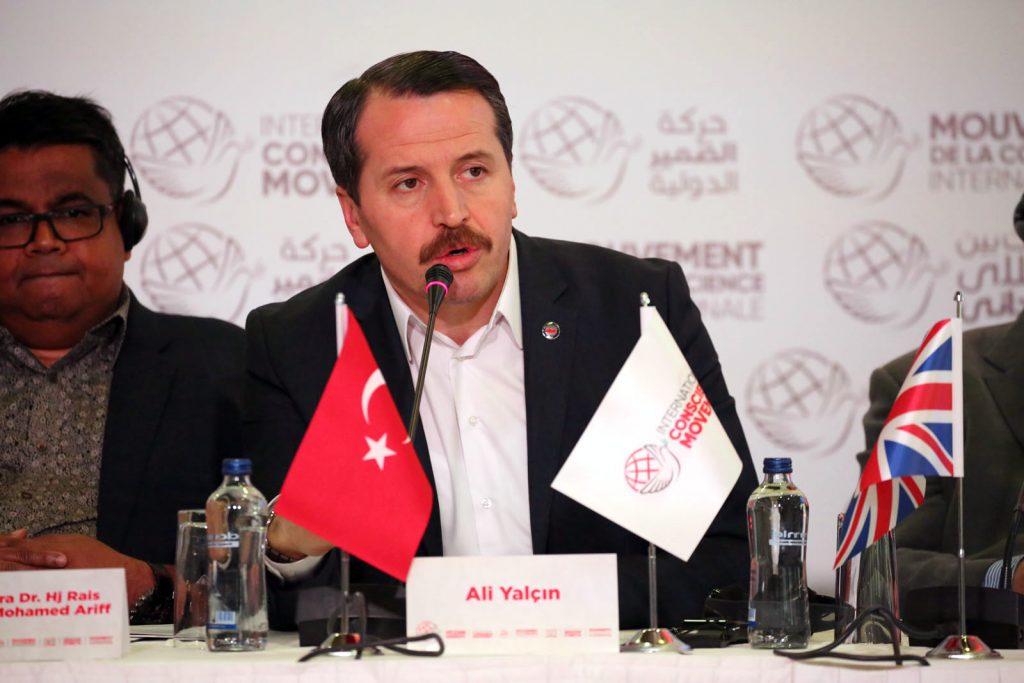 "Tears have no color"
Memur-Sen President Ali Yalcin also said:
"What happened in Syria is a shame. I believe that the Conscience Movement is an important step taken in a situation where the institutions that need to establish peace are unable to do their part. We all came together here having different beliefs. However, the tears have no color. We are all human beings and our sufferings are the same. I think our voice will have a butterfly effect if we combine our strength. I would like to express our full support to all activities of Conscience Movement with more than 1 million members of ours.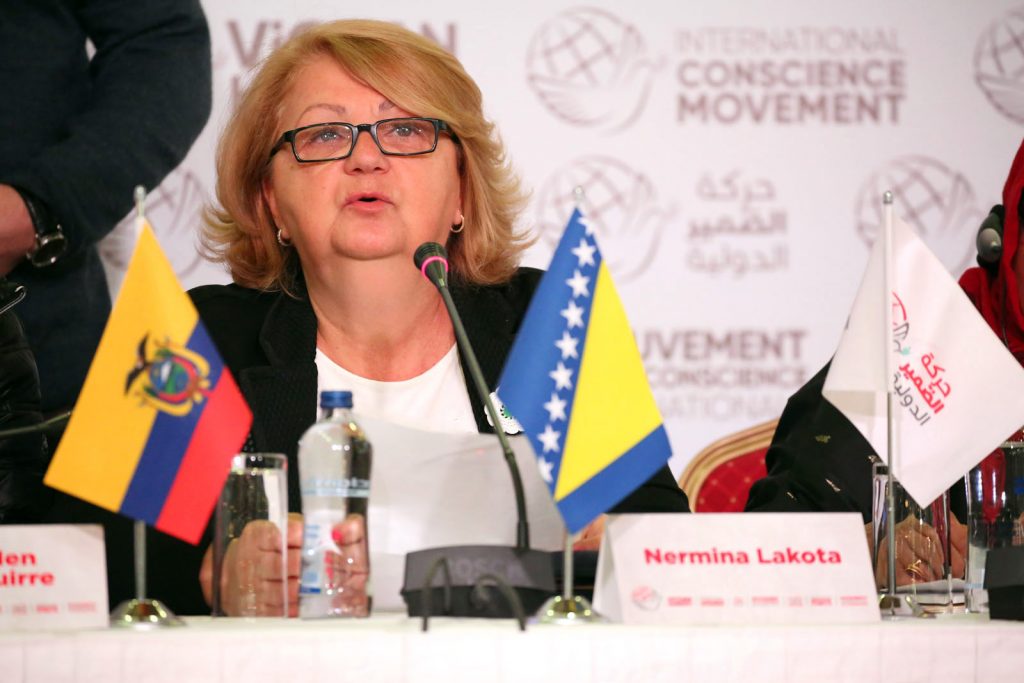 "Syrian women should be brave"
A mother of Srebrenica, Nermina Lakota:
"I'm not surprised at what happened in Syria because a very short time ago, this genocide took place in Srebrenica. We are still trying to find the bodies of our brothers and sisters killed in Srebrenica. The only thing that I can offer to Syrian women is that they should be brave and to not give up bringing war criminals to court one day. It is a source of hope for Syrian women to have Srebrenica Mother as an example in front of them."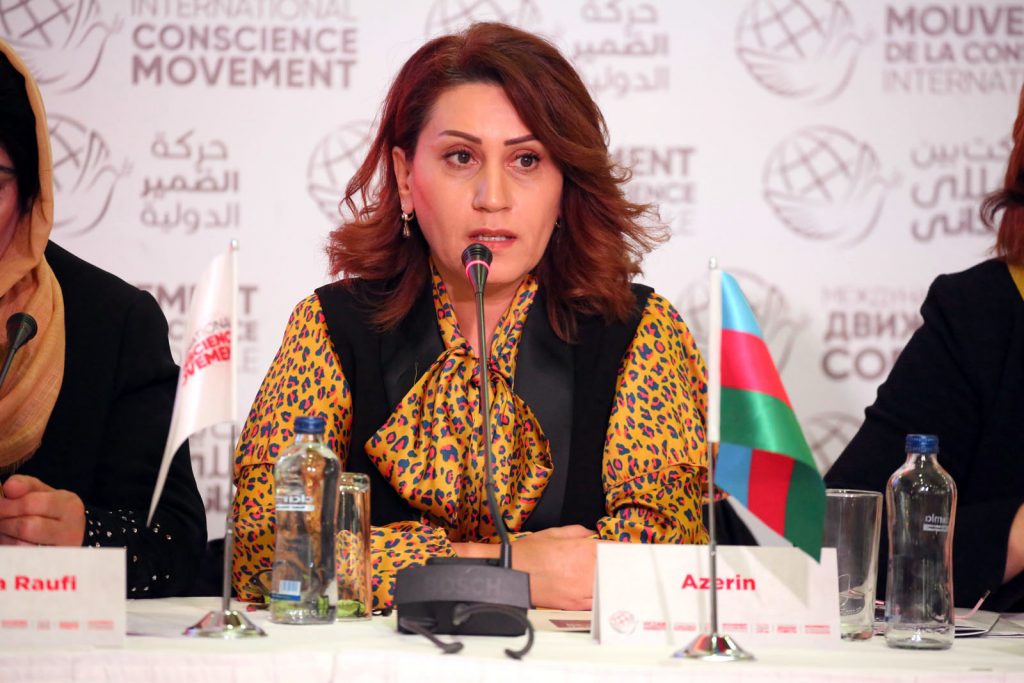 "Women, children and humanity should no longer die!"
Azerbaijani Artist Azerin:
"Children and women are killed in Syria. They are tortured and persecuted. I am here as a man who has not lost his conscience, not just as an artist. We are no strangers to what happened in Syria. Children and women were brutally murdered in the Khojaly genocide. Unfortunately, the world was silent and turned a blind eye to it. Just like in Syria. Today I urge the whole world to listen to the voice of their conscience. I also urge all the states of the world to a world where women and children are not killed. Finally, I say, women, children and humanity should no longer die.."
11 different speakers from all over the world
Later, the following names took the floor and expressed their support for the Conscience Movement:
Hon Baroness Uddin from British Parliament, Mandela's Grandson and a MP Chief Mandela, Malaysian Ruling Party MP Mohamed Arif, Ecuadorian MP Ana Belen Marin Aguirre, Tanzanian MP Mgeni Hassan Juma, Ukrainian MP Olga Bogomolets, Afghanistan Member of Assembly Fawzia Raufi, Australian MP Maha Abdo Oam, Pakistan MP Munaza Hassan, President of the Supreme Council of the Muslims of Kenya Yusuf Abdulrahman Nzibo and Qatar Women's Sports Committee President Lulva Al-Mary.
After the speeches, the exhibition was opened and the program ended.